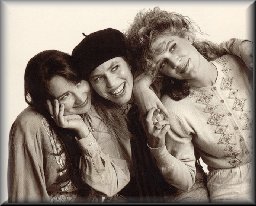 Patty Lege, Sara Hickman, and Robin Lynn Macy
Dixie Chicks MP3 Files: Domestic Science Club
A service of The Unofficial All-Inclusive Dixie Chicks Page
---
Robin Lynn Macy and Domestic Science Club, 1993
After Robin left the Dixie Chicks in July, 1992, she didn't expect to perform professionally anytime soon... in fact, it appears that she returned to teaching at St. Mark's School of Texas, a prestigious Dallas college prep school for boys. But when Texas folk legend Sara Hickman and songwriter Patty Lege approached her to form a new group, she couldn't resist. Here's how Robin describes it in the liner notes of Domestic Science Club's self-titled debut release:
It seemed as if it would take a miracle to sget me onstage again. But Patty and Sara were relentless... finally, at Sara's 1992 Christmas concert we wove our three voices around Winter Wonderland; our shared venture to sing and write together was born.
Domestic Science Club went on to release two discs: the self-titled release in 1993 and Three Women, released (possibly) in 1996. The 1993 release is no longer available -- not even from Miles Of Music, although a used copy could always turn up at Dallas' CDBargains.com.
---
Important disclaimer!
The .mp3 files on this site are not authorized for distribution by the Dixie Chicks, Domestic Science Club, or any of their members, past or present. They are included here solely as a service to those who would like to know more about the history of a group of talented individuals whose impact on mainstream country music is only now being felt. They are posted here under the Fair Use doctrines of US copyright law, which allows their use in the context of a review of the artist's work.

More information on this murky area of law is available at 10 Big Myths about copyright explained by Brad Templeton. For technical details, including .mp3 players and links, please visit the Dixie Chicks MP3 Files Index.
---
Sound Samples from Domestic Science Club (self-titled)
Secrets Of Love (2:23)
I Love You (2:50)
Working Man (2:31)
Sweet Tooth (3:38)
Talk To Me (4:05)
This track features Robin singing lead on a song co-written by her and the St. Mark's Class of '93 (along with Darice Error). In the absence of any samples from the old CDs, this is the best example of the old Dixie Chicks sound. You just have to imagine how it would sound with Emily and Martie Erwin on the strings.
Kayaking (3:10)
Windmill And The Wind (4:40)
It's no coincidence that this song features guitar, bass, dobro, and fiddle... sources say that this beautiful ballad was part of the Dixie Chicks' onstage playlist before Robin left in 1992. Back then, it would have been Robin on guitar, Laura Lynch on bass, Emily Erwin on dobro, and Martie Erwin on fiddle. Robin still plays guitar, and the talented gentlemen do a nice job on the other strings, but it still leave you wondering what it used to sound like...

Special Note: This wonderful song is also included (in a different version) on the still-available Three Women release! You can buy it at CDnow.

Tenderness Place (1:39)
Peaches 'n Cream (4:12)
Winter Wonderland (2:30)
Players on this album
(more info soon)
---