Country Update, November 1998
Dixie Chicks: From Texas to the Top
---
Thanks to Graeme Flanagan, who also supplied some great pictures of the Chicks right before Laura Lynch left, for sending me this great article! It's an interview of Emily Erwin in Australia's Country Update (Issue 16, November 1998). Emily gives a great interview, discussing the past and the future with an openness that hasn't always made it into the North American press.
Was Emily's Entertainment Weekly quote (where she dismissed the old sound as not "pure" enough) taken out of context? After you read her interview with Country Update, you can decide for yourself!
---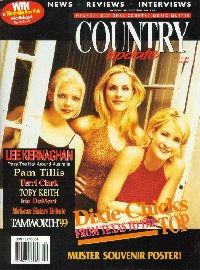 From Texas to the Top
When the Dixie Chicks left their native Texas for the bright lights of Nashville, Texas was not impressed. Too many of the Lone Star State's musical sons and daughters had traded their raw edge and down-home talent for slick production and corporate sponsorship.

Not so Texas' latest musical export, the Dixie Chicks. Banjo player, Emily Erwin, spoke to Stephanie Dale about the band's broadening horizons -- which just happens to include the Australian outback.
---
1998 has been a momentous year for the Dixie Chicks. Their first Nashville-produced album Wide Open Spaces rocketed up country charts on both sides of the Pacific and they've spent the year touring with some of American country music's biggest names: Loretta Lynn, Garth Brooks, Alan Jackson, Emmylou Harris, Clay Walker...
In July, their first number one hit -- There's Your Trouble -- duelled with Garth Brooks' To Make You Feel My Love all the way up the American charts, until the Chicks were sitting at number three and Garth at number two.
Who would take the number one spot first?
As it turned out, the Chicks. And Garth received a bright red pair of boxing globes in the mail signed, with love, by the Dixie Chicks.
"We jumped him -- it was the biggest thing!" laughed Emily.
"We're like, 'move over Garth Brooks'."
There are three Dixie Chicks: Emily, who plays banjo, dobro and acoustic guitar; her sister Martie Seidel, who plays fiddle and mandolin; and Natalie Maines, the group's singer.
The band is not an overnight success, as many people presume, but has put in years of hard yakka to earn its place on the charts.
Nine years, in fact.
When Emily was 16 and Martie 19, instead of spending their summer waiting tables for pocket money, like their peers, the girls teamed up with a couple of friends and took to Dallas' street corners.
They made $375 in their first hour.
"We thought that was pretty good and the whole thing just blossomed from there," said Emily.
"We never took ourselves too seriously.
"Our big aim was to play indoors!"
WIN
Country Update, in conjunction with Sony Music has
10 autographed copies of
Wide Open Spaces

To be in the draw to win a copy, write your name and address on the back of an envelope as well as the name of your favourite Dixie Chick.

Post to:
Country Update Dixie Chick Competition
199 Mary Street Gympie 4570

Competition closes February 21, 1999
And sure enough, people started hiring the band.
On their way to their first gig, the girls figured they'd better come up with a name.
"The Little Feat song 'Dixie Chicken' came on the radio and we thought 'that's it'," said Emily.
"We became the Dixie Chickens -- only Martie didn't want to be a chicken, so we shortened it to Dixie Chicks."
The name has served the band for almost a decade, through the recording of three independent albums and their Sony debut, Wide Open Spaces, the album that has brought them gold status and worldwide acclaim.
---
Leaving Texas for the recording studios of Nashville was not an easy decision for the Dixie Chicks.
"Texas likes to think it has its own musical identity and doesn't like to give up its artists, especially to Nashville," said Emily.
"There was a lot of pressure on us when we decided to go to Nashville. People were worried we'd fall into the 'Nashville trap' and produce records that were too slick.
"We'd never really dreamed of being rich and famous. We just came from a bluegrass world. Martie and I had played in bluegrass festivals for years.
"It's not easy to make a living from music in Texas and to make money from what we were doing was the ultimate. We were quite happy with that.
"Then we found Natalie in 1995 -- she was steel guitarist Lloyd Maines' daughter and Lloyd had played on our independent albums. He's a staple of the Texas music industry and we asked his advice.
"Natalie came back from college at this stage. We'd heard her demo tapes and we were interested and she was real interested.
"So she joined us.
"Eventually our horizons got bigger and bigger, as horizons do, and we knew we had to go to Nashville.
"We were offered a record deal -- and everything's cool!"
And, it seems, the women have passed the Texas test: Wide Open Spaces has sold more copies in Texas than anywhere else.
"We rode the Nashville-Texas line and kept our signature sound," said Emily.
"We also kept the radio market in mind and I don't think we compromised anything. We really tried hard not to sound too slick and it was important to us to play our own instruments."
One of which, of course, was the banjo -- which isn't exactly a hot item in Nashville recording studios.
"For some reason Nashville sees the banjo as too hokey, too down home," said Emily.
"It's bluegrass, it's hillbilly and Nashville is trying so hard to be hip that sometimes it leaves behind its roots.
"So it was fun insisting on the banjo. We were very straightforward about what we wanted and Sony knew where we were coming from -- they let us colour outside the line."
---
The world may now be their oyster, but Texas is home -- always was, always will be.
The Dixie Chicks have spent months at a time away from Dallas and plan to return there after a trip to Australia in March for a short tour.
"We'd love to build a vacation around that trip," said Emily.
"I know it sounds really stereotypical, but I want to see some kangaroos and I'd like to go on an outback safari and to the beach.
"I'm a city girl at heart, not a cowgirl by any means.
"We all miss home when we're on the road.
"Texans are so proud. We like to think of ourselves as our own country.
"There's something indefinable about it, but when we leave Texas, we feel a difference immediately.
"The Australian terrain is a lot like Texas and our people are also really hospitable."
And the long-term plan?
"I certainly don't want to be on the road 300 days a year for the rest of my life," said Emily.
"But for now it's great.
"We're laying the groundwork to be able to pick and choose.
"Because with success comes freedom."
---
This article is copyright © 1998, Country Weekly, Australia. It is reproduced here without permission. If I can find their web site, I'll remove this page and just link directly to the article. It is being used in the context of my site's goal of exploring the history of the Dixie Chicks.
---