Dixie Chicks MP3 Files: Special Treats
A service of The Unofficial All-Inclusive Dixie Chicks Page
---
Important disclaimer!
The .mp3 files on this site are not authorized for distribution by the Dixie Chicks or any of their members, past or present. They are included here solely as a service to those who would like to know more about the history of a group of talented individuals whose impact on mainstream country music is only now being felt. They are posted here under the Fair Use doctrines of US copyright law, which allows their use in the context of a review of the artist's work.

For more details, including .mp3 players, links and technical information, please visit the Dixie Chicks MP3 Files Index.

And to be the first to find out about new additions to this page and the rest of the site, subscribe to my update announcement list! Just a message every couple of weeks or so, detailing newly uncovered nuggets of Dixie Chicks history -- and history in the making. Just send a blank email to originalchicks-subscribe@egroups.com.
---
"Ready To Run" -- echoes of the Old Chicks sound?
I've written several paragraphs about this facinating song in the Discography entries for both the Runaway Bride soundtrack (due out July 1999) and the much-awaited fifth (not second) Dixie Chicks album, Fly. The song wipes away the one thing I didn't like about Wide Open Spaces -- the NashVegas background noise. No heavy percussion, no overblown keyboards, just three voices, a fiddle, and -- can Nashville handle it? -- a banjo! Light percussion and an Irish-sounding whistle round out the sound.

This .mp3 was created from a mono .wav file that was recorded off the radio, but aside from an occasional dropout the quality is very good. I got it from Nici, who got it from Whitney's Dixie Chicks Page, and I found out about it thanks to the Dixie Chicks Discussion List! It's amazing how fast things get around on the 'net... that's what has the lawyers in such a tizzy.
---
The Dixie Chicks on local Public Radio

For most of their career, the Dixie Chicks couldn't seem to buy a break. Despite spending long hours on the road (see the back issues of the Chick Chat for details), widespread fame eluded them. But local Dallas radio stations took notice, particularly KERA 90.1, the local public radio station. While the popular Young Country 105.3 did play She'll Find Better Things To Do, and alternative/community station KNON 89.3 would play them as part of one of their grab-bag community access shows, only KERA consistently played a variety of Dixie Chicks sounds.

In 1993, the station released the first (and last) of its "KERA 90.1 Sound Sessions" CDs. The 13 tracks on this CD feature almost an hour of local bands playing enough great music to restore anyone's faith in the Dallas music scene. Alas, the station itself couldn't keep the faith... not long after issuing the CD, KERA suddenly ended its daytime local music programming in favor of syndicated NPR talk fare such as The Diane Rehm Show, Fresh Air, and Talk Of The Nation. Dallas music survived -- just read the Dallas Observer -- but it lost one of its primary advocates when KERA banished local music to the late-night ratings ghetto.

I joined KERA as a contributing member shorly before the music died, so I heard them mention the Dixie Chicks' contribution to the Sound Sessions CD. By the time the Chicks hit the big time, though, I assumed that the station's stash would be long gone. Not so, they say... you can still order your copy of this great compilation by calling 214-740-9290. It's just $15.00, and well worth the cost. Although membership has its privleges... I got my copy as a "thank you" for being a KERA member since 1993.

When I have time, I will post detailed information about all the tracks on this release, particularly the two great tracks by Sara Hickman, who joined with ousted Dixie Chick lead singer Robin Macy to form Domestic Science Club (see below). Meanwhile, I invite you to sample something sweet... the Dixie Chicks' contribution to Dallas music. Recorded before Robin left (but released after), Northern Rail shows off every aspect of the original Dixie Chicks sound.
Northern Rail
Is this an old traditional bluegrass tune? The only previous recording (according to CDnow) is by a bluegrass group named Northern Lights on the album Take You To The Sky. The Dixie Chicks take the song far beyond bluegrass, adding the unique sound that still sets them apart from the rest of the Nashville crowd.
---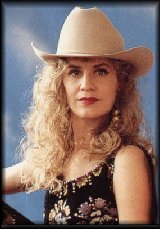 Robin Lynn Macy,
from Little Ol' Cowgirl
Robin Lynn Macy and Domestic Science Club, 1993
After Robin left the Dixie Chicks in July, 1992, she didn't expect to perform professionally anytime soon... in fact, it appears that she returned to teaching at St. Mark's School of Texas, a prestigious Dallas boys' college prep school. But when Texas folk legend Sara Hickman and songwriter Patty Lege approached her to form a new group, she couldn't resist. Here's how Robin describes it in the liner notes of Domestic Science Club's self-titled debut release:
It seemed as if it would take a miracle to sget me onstage again. But Patty and Sara were relentless... finally, at Sara's 1992 Christmas concert we wove our three voices around Winter Wonderland; our shared venture to sing and write together was born.
Domestic Science Club went on to release two discs: the self-titled release in 1993 and Three Women, released (possibly) in 1996. The 1993 release is no longer available -- not even from Miles Of Music -- so I'll be creating a Sounds page for it soon.

Meanwhile, I invite you to enjoy these cuts from the disc.
Talk To Me
This track features Robin singing lead on a song co-written by her and the St. Mark's Class of '93 (along with Darice Error). In the absence of any samples from the old CDs, this is the best example of the old Dixie Chicks sound. You just have to imagine how it would sound with Emily and Martie Erwin on the strings.
Windmill And The Wind
It's no coincidence that this song features guitar, bass, dobro, and fiddle... sources say that this beautiful ballad was part of the Dixie Chicks' onstage playlist before Robin left in 1992. Back then, it would have been Robin on guitar, Laura Lynch on bass, Emily Erwin on dobro, and Martie Erwin on fiddle. Robin still plays guitar, and the talented gentlemen do a nice job on the other strings, but it still leave you wondering what it used to sound like...

Special Note: This wonderful song is also included on the still-available Three Women release! You can buy it at CDnow.
---
Summer Lights, May 1997
On May 31 1997, the Dixie Chicks played Nashville's Summer Lights festival. It must have been quite a show, as the schedule was revised at the last minute due to rain, and the Dixie Chicks had to move from the Marlboro stage to the tent-covered Alligator Alley (capacity 300), the official Zydeco venue. To compare these venues, see the festival's Daily News page.

Despite these obstacles, the festival's web site includes a .wav file of the Chicks playing "Til I See You Again," a track that didn't make it onto the album. It's a fast, bluegrassy number that they still play at their live concerts. The crowds love it, so maybe they'll be able to include it on the followup to Wide Open Spaces, whenever that comes out. They've only released singles for the first three of their eleven future top 10 hits so far, you know...

In case the 1997 festival's web site is erased for the '98 fest, I have preserved the .wav file and converted it to a .mp3 for your convenience. It should be considered Copyright (c) 1997 Summer Lights Festival Organizers (Whomever They May Be).
---