Dixie Chicks Complete Discography: The Indie Releases
Jump to: Danger in the Air - Thank Heavens For Dale Evans - Home On The Radar Range - Little Ol' Cowgirl - KERA - Shouldn't A Told You That - Domestic Science Club - Kerrville - Women of Kerrville - Dancehall - Three Women - Flying Machine - Wayside - George - CDnow?
This page details the independent releases by the Dixie Chicks and related groups before the Chicks got their big break with the 1997 Sony release of the top 10 single I Can Love You Better.
Other sections of the Dixie Chicks Complete Discography:
---
About The "Complete Discography"
These listings grew out of a set of reviews of the first three abums that I wrote in early 1997 as album reviews for CDnow, not realizing that CDnow could only accept reviews for current releases. At that time, hardly anybody outside of North Texas had heard of the Dixie Chicks. A year later, they released Wide Open Spaces... and a year after that -- 51 weeks, to be exact -- the Dixie Chicks' fourth album (and first major-label release) hit the top of the Country Music charts.
---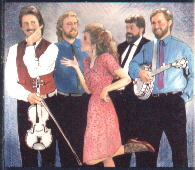 Danger in the Air (1988-1990)
Before helping found the Dixie Chicks, Robin Lynn Macy sang lead and played guitar for the Dallas-based acoustic bluegrass band Danger in the Air. This group self-released a couple of cassettes full of great sound before disbanding. See the Danger in the Air pages for details on their 1988 and 1990 releases.

Dixie Chicks - "Thank Heavens for Dale Evans" (1990)
1997 Review:
The Dixie Chicks, originally an "All-Cowgirl Band" who changed their tag line to "Cowgirl Band" when they later added male sidemen, attempted to make the transition from club and sidewalk singers to serious recording artists with this, their first album. It blends folk music and traditional country with brilliant fiddle performances (including two instrumental cuts) to create a wonderful experience for fans of traditional and contemporary country alike. While the band shines on folk songs like "Storm Out On The Sea," their songs with strong Western roots (like their cover of "I Want To Be A Cowboy's Sweetheart") showed the most commercial promise -- but not with this indie label release, which got airplay only on local public radio stations.
For more details, see the Track-by-Track Reviews.
---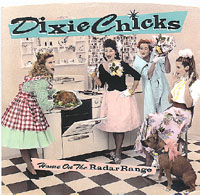 Dixie Chicks - "Home On The Radar Range" (1991)
According to the Chicks' former violin supplier Jay Rury (see the Liner Notes for Shouldn't A Told You That), the Dixie Chicks released a 45 rpm single -- yes, on vinyl -- for Christmas, 1991. The single is entitled Home On The Radar Range, but the songs included are Christmas Swing and, on the flip side, The Flip Side.

The jacket featured (left to right) Robin, Laura, Martie, Emily, and a dog named Tess, in what Jay describes as "House dresses and flowers in their hair (á la June Cleaver); 40's - 50's holiday attire." Obviously, such a pose that would be unthinkable today, at least for Natalie (with her tattoos)!

Special Bonus! Jay Rury gave me his courteous permission to borrow his copy of this rare release, and I have transcribed the complete Liner Notes for Home On The Radar Range! This page includes the full lyrics of both songs, along with my comments. When I get a patch cable, I may be able to include otherwise unavailable samples from the single on my Sounds Page.

I see a hand... yes? Oh, of course... you have no idea what a 45 rpm single is? Well, it's slightly larger than a CD and made of black vinyl, just like the "albums" you may have heard about but never seen outside of a rap sampling session. 45 rpm refers to the rotation speed -- unlike digital CDs, which rotate at a precicely controlled varying speed, analog 33 1/3 rpm albums and 45 rpm singles rotate at a fixed speed.
---
Dixie Chicks - "Little Ol' Cowgirl" (1992)
1997 Review:
The "Cowgirl Band" got their first taste of commercial success with this transition album. The varied range from folk to traditional Western to commercial country reflected the group's own evolution, which culminated in the departure of folk devotée Robin Lynn Macy from the Chicks. Robin's desire to keep the group focused on less lucrative folk music can be heard in each of the tracks she contributed to, while the rest of the Dixie Chicks' desire to break into mainstream country adds a contemporary feel to tracks like "She'll Find Better Things To Do" and "A Heart That Can." These cuts did find limited airplay on mainstream Dallas-area radio, but indie label Crystal Clear wasn't able to bring the Western-inspired country sound to nationwide attention.

For more details, see the Track-by-Track Reviews.
KERA Sound Sessions (1993)
Although the disc didn't come out until 1993, it was the original four founding Dixie Chicks who contributed a great bluegrass track to this CD, issued by Dallas public radio station KERA 90.1. The other tracks, though, are not to be missed, especially two cuts by Sara Hickman, who teamed up with Robin Lynn Macy to issue the first self-titled Domestic Science Club release. For more details, sound samples, and how to order it from KERA, see my Treats page.

---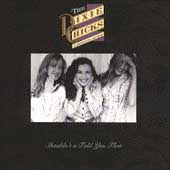 Dixie Chicks - "Shouldn't A Told You That" (1993)
1997 Review
The departure of Robin Lynn Macy (who went on to join Sara Hickman and Patty Lege to form the Domestic Science Club) allowed the Dixie Chicks to create what lead singer Laura Lynch described as an album without any "bluegrass" songs. Nonetheless, the playful title cut showcases the Chicks' ability to blend traditional Western music (and yes, even bluegrass) with traditional country to produce an album that was sorely needed in a mainstream country scene dominated by Billy Ray Cyrus-style marketing machine lookalikes. Unfortunately, the album didn't contain the sort of breakout hit needed to overcome their indie label handicap, so not even the contempory-sounding tracks like "One Heart Away" were able to find any airtime. Meanwhile, the group's hectic schedule was taking its toll; a year after the release of "Shouldn't A Told You That," Lynch left the group and was replaced by Natalie Maines, daughter of steel guitar legend Lloyd Maines.

For more details, see the Track-by-Track Reviews.
---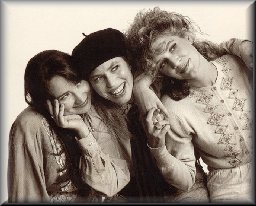 Domestic Science Club (self-titled) (1993)
Robin Macy said in the liner notes of this release that she "thought it would take a miracle" to get her back on stage. But when she sang "Winter Wonderland" with Sara Hickman and Patty Lege, the miracle happened. They cut a disc as a Christmas present for their friends, but when one of their friends played it on the radio, a second pressing was commissioned -- with two of the songs omitted.

Unfortunately, the two songs omitted from this release were "Winter Wonderland" -- the song that got them started -- and a ballad called "Windmill and the Wind". This song, which was once part of the Dixie Chicks playlist, featured the Chicks' instruments -- guitar, fiddle, dobro, and bass. It was, in effect, a Dixie Chicks song, sung beautifully by Robin with Sara and Patty backing her up. Was this why the song was omitted from the commercial release on the Discovery label? Rumors persist that Robin's departure from the Chicks included legal wrangling... see the Spring 1994 Chick Chat for an interesting oblique reference.

News Flash: While CDnow does not stock this indie release, it is still available for purchase directly from Sara Hickman's web site: sarahickman.com But the version for sale is the 8-track commercial release that doesn't include "Windmill And The Wind"... if you find this version anywhere, buy it at (almost) any price! To find out why, listen to the sample on my Treats page. Sorry, the person who let me borrow his CD to make the sample isn't interested in selling. :)

Kerrville Folk Festival - 1995 Highlights (1995)

CD available at CDnow
Sound samples of 5 songs (out of 17)

After the surprise success of the self-titled Domestic Science Club release, the team of Robin Lynn Macy, Patty Lege, and Sara Hickman were active on the Texas folk circuit. Of course, that meant that they'd make an appearance at Texas' world-famous Kerrville Folk Festival (kerrville-music.com). This sampler of the best of Texas folk artists includes the subversively sexy song "Sweet Tooth" in a live version.
Other notable songs on this release include "Mineral Wells", a beautiful ballad by Tom Russell and Katy Moffatt, and a track by Trout Fishing In America.

Women of Kerrville (1995)

CD available at CDnow
Sound samples of 5 songs (out of 14)


The 1995 festival also spawned this disc, featuring some of the many female artists at the festival. The Domestic Science Club contribution is the smooth, sweet "Peaches And Cream", a love song that compares her man to the dessert, while "some men are tobacco, just fat smoke coming 'round".

Some of the other Texas women include Caroline Aiken, Tish Hinojosa, and other female artists who would probably be getting interviewed for label deals if they'd been in Nashville in the post-Chicks era. Not that they would accept, of course...

Pat Green - "Dancehall Dreamer" (Fall? 1995)

CD available at CDnow
Sound samples of 5 songs (out of 12)


In late 1995, Natalie Maines joined the Dixie Chicks -- see the Timeline for more details. But before then -- probably before her short-lived degree program at Boston's Berklee School of Music -- Natalie joined up with honky-tonker Pat Green to record backup vocals on his first release, Dancehall Dreamer. According to posters on the Pat Green mailing list, the liner notes credit Natalie and Jane Begley with background vocals, but do not specify which songs each woman helped present.

It is notable that this release was issued by Crystal Clear Sound -- the independent label that released all three of the Dixie Chicks' indie CDs. And of course, Lloyd Maines produced this album, as well as all the rest of Pat Green's releases on the Crystal Clear label. Is this when Natalie cut the demo tape that led to her introduction to -- and Laura Lynch's farewell from -- the Dixie Chicks?

Domestic Science Club - "Three Women" (1996)

CD available at CDnow
Sound samples of 5 songs (out of 16)


The "Three Women" of Domestic Science Club, including founding Dixie Chick lead singer Robin Macy, cut a second and final release in 1996, the year after Laura Lynch left the Dixie Chicks. Although this album (which is still widely available) includes Windmill And The Wind, a song that was in the original Chicks' playlist before Robin left, only the title track has any echoes of Robin's work with the Chicks. Members of the Sara Hickman discussion list (visit SaraHickman.com for subscription info) agree that while the self-titled DSC release is strongly influenced by Robin's bluegrass roots, Three Women is most certainly a Sara Hickman album.

---

The Groobees - "Flying Machine" (April 1996)
Meanwhile, as the Dixie Chicks were changing their look and their lineup, events in Amarillo were brewing that would eventually propel the group way beyond the honky tonk and high school cafeteria circuit. Singer-songwriter Susan Gibson joined The Groobees, a college alternative-rock band, and the group showcased their new sound in a three-track EP, Flying Machine. The tracks got notable airplay on West Texas radio, and attracted the attention of another Panhandle resident, producer Lloyd Maines.

---

The Groobees - "Wayside" (1997)
According to the group's bio at Blix Street Records (blixstreet.com), the Groobees (two O's, two E's) quit their day jobs in 1997, and recorded their first full-length CD release. Wayside included several songs written by Susan Gibson, one of which was an autobiographical track called "Wide Open Spaces". According to the Blix Street bio:
During those [recording] sessions, the band gave their producer, Lloyd Maines, a demo of "Wide Open Spaces" which he played for his daughter, Natalie Maines, the newest Dixie Chick at the time. Natalie had recently embarked on an independent life and immediately connected with the song's sense of freedom, adventure and possibility. The rest is now country music history.
Nobody would have suspected in 1997 that "Wide Open Spaces" -- a track that the Chicks' new label thought was not "radio friendly" enough -- would earn Gibson and the Chicks a four-week chart topping hit and a trip to the CMA awards. And the Chicks gave credit where credit was due -- see the Groobees' web site (groobees.com) for pictures of Susan's surprise appearance with the Chicks at the awards.

Pat Green - "George's Bar" (April 1997)

CD available at CDnow
Sound samples of 5 songs (out of 13, including "Snowin' on Raton")

While touring the Texas honky-tonk circuit with the new-look Dixie Chicks, Natalie Maines found time to enter the studio for a couple of tracks on Pat Green's second indie release. This may have had something to do with her new husband Micheal Tarabay, Pat's bass player -- the Chicks and Pat even played some dates together in summer 1997 (see the postcard sent to the Chick Chat mailing list). But just a year or so later, Green was forced to find a new bassist when Tarabay left to join his wife Natalie in Nashville... only to become embroiled in a messy divorce.
According to the Pat Green mailing list, Natalie sings background vocals on the track "John Wayne and Jesus". But her biggest contribution is a duet with Green on "Snowin' On Raton", a cover of one of the late Townes Van Zandt's songs. Check out the CDnow sound sample -- Dixie Chicks fans may buy this album just for this song. For another example of Natalie singing a duet, see the notes on "Wherever You Are" (with Deryl Dodd) in the track-by-track review of Fly.
Also worth noting: the female vocals on Carry On, Green's latest (2/2000) release, are not Natalie, but belong to Terri Hendrix, an artist in her own right who often tours with -- who else -- Lloyd Maines.
For more information on Pat Green, visit his official site at patgreen.com or the Pat Green section at texascountrymusic.com.

---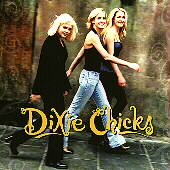 For More Information...
For full details of the Dixie Chicks' smash-hit successes (and occasional flops) since they hit the big time, see the Dixie Chicks Complete Discography: The Hits (and Misses). You'll also find out where to find the absolute latest info about what the Chicks are doing these days.

Why CDnow?
Two words: Customer Service. I've tried some of the other online music services, but nobody beats CDnow for making sure you know the status of your order at all times.

No other major online retailer that I've found lets you calculate all shipping costs, taxes, and discounts without even logging in! Most won't do this until you've given your credit card number or other personal information, or at least until you've said you're finished shopping. Only CDnow lets you shop on a budget in this way!

And CDnow is honest. They don't have the old Dixie Chicks CDs, and they say so up front. I recently ordered two Chicks discs from ktel.com, and wasn't told that the discs weren't available until after the rest of the order had shipped. Worse yet, the CDs are still listed on the ktel.com site!

I may go to an independent vendor from time to time, but I will never order from any major retailer but CDnow
---
What about that 7%?
I'm proud to be a member of CDnow's Cosmic Credit program, which gives me a 7% commission on any purchases made through my links. But I would still fully endorse CDnow, even if I didn't get a dime, for all the reasons noted above. If you feel that my recommendation is tainted by a conflict of interest, I invite you to visit CDnow through this link, which will not give me the 7% credit: http://cdnow.com/
---